Welcome To Horizons Unlimited • Child & Adult Care Food Program
The Food Program benefits parents, children and child care providers. As a parent, you have the the assurance that a professional is visiting your child care provider on a regular basis. These visits offer your provider support, resources and techncial assistance. The monthly reimbursement for meals will also offer financial support to your child care provider as well as an ability for her to purchase good food choices for your child. Let her know about this valuable child nutrition program!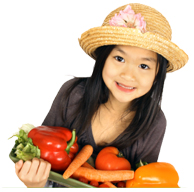 Food Program Benefits
Receive partial reimbursement for feeding children in your care!
Give children well-balanced meals.
Help children in your care be healthier.
Protect yourself against rising food costs.
We will help!
Provider Resources
Children develop lifelong eating habits, likes, and dislikes in the first 5 years of life. As a child care provider you will play a big role in helping children develop good eating habits that will last a lifetime. We want to help! That is why keeping you informed with recent child nutrition information and resources is important to us. Not only will you find this information useful but you can also share it with parents who have questions or concerns about their child's eating habits. • Read More •