Horizons Unlimited is switching to KIDKARE!
The KidKare record keeping system is a new program by Minute Menu.  The KidKare program has many benefits one being that you can access the program in its entirety from any device that has internet access. You will now be able to enroll children, record meal counts and menus and even submit claims all from your smart phone or tablet.  This new program is in the Minute Menu family and ALL information you have entered into Minute Menu will be transferred over to the new KidKare program.
Check out this introductory video introducing KidKare and the KidKare training videos.
If you use the accounting portion of the Minute Menu Pro program wait until you file your taxes before switching.  All information will transfer, but the program does have differences in format so for your ease we suggest you wait until after you file.
If you are ready to switch please send us your request by email and we will send you the KidKare Welcome Letter which will contain the new user name and password as well as a  link to the KidKare program. Once you switch programs, remove the Minute Menu Icon from your desk to and Kids2Go app from all your devices.  Going forward you will only use the KidKare program.
All providers will be switched  to the new program by the end of April.
More Changes….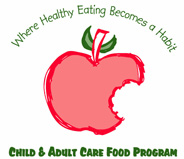 The food program meal pattern is changing effective October 2017.  Keep informed by frequently checking our website and Facebook page.
As resources and more information becomes available it will be posted posted under The Food Program <Current Meal Pattern and October 2017 Meal Pattern Changes.
You can also find them also posted for Family Daycare homes under For Providers <Provider Resources < scroll to Latest Nutrition Article and Program Pointers and for Centers they are posted under For Centers <Center Resources <scroll to Meal Pattern Changes-Effective October 2017.