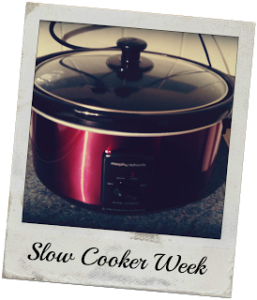 Unique Combination Meals Using a Slow Cooker
Slow cookers are a great way to use up leftovers, as well as to prepare a main dish without a lot of fuss. Generally speaking, slow cooker meals utilize 4-5 basic ingredients, including a protein source, vegetables, liquid, herbs, and optional flavor enhancers. Grains can also be added to the slow cooker in the final simmering minutes, as they will likely over-cook if they are added at the beginning of cooking time. For a simple combination, create your own slow cooker meal by mixing and matching ingredient selections from the following chart.
Protein

(1 pound)

Vegetables

(1 cup each)

Liquid

(2 cups)

Herbs
Flavor Enhancer
Boneless chuck roast
Diced yellow onion, chopped carrots, halved baby potatoes
Low-sodium beef broth
1 tsp. dried thyme, 1 tsp. chopped dried parsley
2 Tbsp. tomato paste
Canned white beans
Chopped tomatoes, diced onions, sliced yellow squash
Canned diced tomatoes (with juice)
1 tsp. dried oregano, 1 tsp. dried crushed rosemary
2 tsp. lemon juice
Chicken breast
Frozen corn kernels, diced red bell pepper, diced sweet potato
Low-sodium chicken broth
1 tsp. dried basil
2 Tbsp. grated Parmesan
Pork loin
Diced red onion, broccoli florets, frozen green peas
Low-sodium vegetable broth
1 Tbsp. ground cumin, 1 tsp. chili powder
2 cloves minced garlic
Here are a couple more recipes to try in a slow cooker: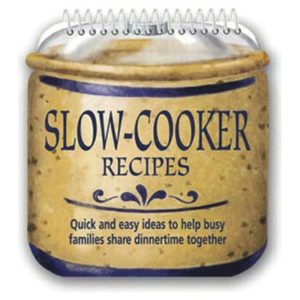 Cheesy Tortellini: Heat 1 Tbsp. olive oil in large skillet over medium heat. Add 1 pound lean ground beef or turkey, 1 diced onion, and 2 minced garlic cloves. Cook until beef is browned, crumbling as it cooks; drain excess fat. Place ground beef mixture, 28-ounce can crushed tomatoes (with juice), 20-ounce can diced tomatoes and green chilies (with juice), ½ tsp. dried oregano, and ½ tsp. dried basil into slow cooker. Season with salt and pepper, to taste. Stir until well combined. Cover and cook on "low" for 7-8 hours or on "high" for 3-4 hours. Uncover and stir in 9-ounce package refrigerated cheese-filled tortellini. Top with 1 cup shredded part-skim mozzarella and ½ cup shredded reduced-fat sharp cheddar cheese. Cover and cook on "low" for 15-30 minutes, or until tortellini is tender.
Barley and Chickpea Risotto: Heat 1½ Tbsp. olive oil in large saucepan over medium heat. Add 3 peeled and chopped carrots, 3 minced garlic cloves, 1½ cups cauliflower cut into small florets, and 1/3 cup minced onion. Cook for 5 minutes, until vegetables are soft. Stir in 1 tsp. dried thyme and 1¼ cup pearl barley; cook for 2 minutes, stirring frequently. Transfer mixture to slow cooker. Stir in 1 can garbanzo beans (rinsed and drained), 2½ cups low-sodium vegetable broth, 1¼ cups water, ½ tsp. salt, and ¼ tsp. ground black pepper. Cook on "high" for 2 hours, or until barley is tender and most of liquid is absorbed. Sprinkle each serving with 1 Tbsp. grated Parmesan cheese.